Well, Bollywood never backs off to surprise people. Exhibit A was the hush-hush wedding that Anushka and Virat Kohli had. Ever since that, we are looking for chances to find out the true events of Bollywood. And we had that chance with Priyanka Chopra.
Don't know what the full scoop is? Well, read on ahead to find out what the story behind the mangalsutra on Priyanka Chopra's wrist is.
The Mangalsutra Is Not A Mangalsutra: Says Priyanka Chopra
Let's face the truth, guys. Priyanka Chopra is one of the most celebrated actresses in Bollywood. Shining in Hollywood, this actress has a big name in the industry. So, it is not a surprise that fans speculate a lot about Priyanka Chopra.
That happened when she posted a picture of herself with a band on her hand. While it seemed to be nothing, that didn't stop people from making rumors. Soon, the news spread that Priyanka's wrist had a mangalsutra. Now that definitely sounds a bit absurd, right?
People thought so as well. However, news travels faster so the photo became viral. Most news channels made it a point to show that Priyanka might have gotten engaged or married.
So, do you really think Priyanka Chopra got married secretly? Well, if you think so then you couldn't be more wrong. As it turns out, that was just a bracelet that she was wearing. How do we know that? Well, Piggy Chops posted a picture showing the bracelet and shunning all the rumors.
This is what she had to say. "Hahaha! heights of speculation! This is an evil eye guys! Calm down! I'll tell u when I get married and it won't be a secret! Lol", said her tweets.
Mangalsutra on Priyanka Chopra's Wrist- Married?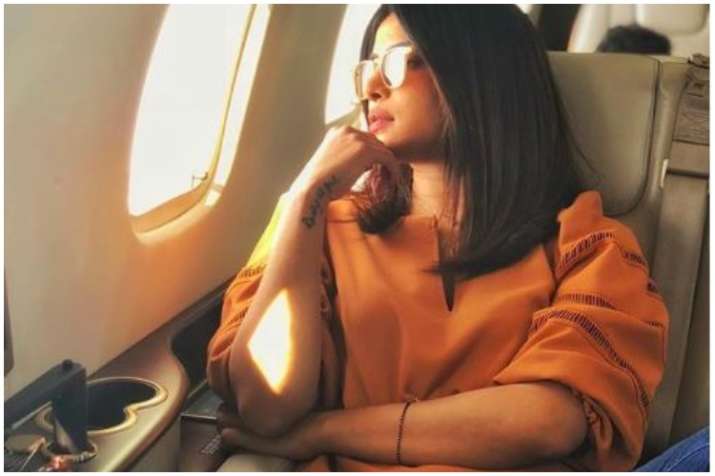 Well, things were calm when Priyanka Chopra posted the picture of her bracelet. The evil eye bracelet on Priyanka's wrists put rest to all the rumors. And here we all were thinking it was mangalsutra on Priyanka Chopra's wrist. It was when she was visiting Assam that the picture became news.
We cannot blame the fans for going crazy about the actress's marriage. Priyanka Chopra movies are great to watch and the fans are all crazy. Priyanka Chopra cleared all the rumors for sure. She also commented that her marriage will be a public announcement as well.
As far as work goes, Priyanka Chopra movies are going great. She recently worked in Baywatch. There are a couple other movies where we will get to see the amazing talent of Priyanka Chopra. As far as marriage goes, let's just hope that the actress ties the knot when the time is right.