Too pretty to be true, this is what we can say about the Cannes Festival look of Kangana Ranaut!! Well, to be honest, Kangana Ranaut is one of the best in the industry.
This is a Bollywood actress that we both love and respect. Kangana is always all over the news with her witty remarks and amazing interviews.
But this time it is something else that has stolen our hearts. Want to know what we are talking about? Well, read on ahead to find out more about the Kangana's Cannes festival look. There is no doubt that Kangana Ranaut is the "Queen". This article will prove that.
Check Out Kangana's Cannes Festival Look
Well, you all must have heard a lot about the Cannes Festival. This is one of the biggest events with every single celebrity in the news.
So, why would Kangana be amiss in here? We all saw the stunning looks of Kangana Ranaut at the Cannes festival. Every single person that saw her there was a fan of her beauty, to be honest.
I mean, sure, people talked a lot about Deepika Padukone as well. But the one that stole the show was Kangana Ranaut with her beautiful Cannes look.
Cannes Festival And Kangana Ranaut
Well, Deepika was really the star of the show, but Kangana was the one that surprised us. She made heads turn with the amazing outfit that she wore for the music festival this year. Do you want to know what the amazing Bollywood actress wore?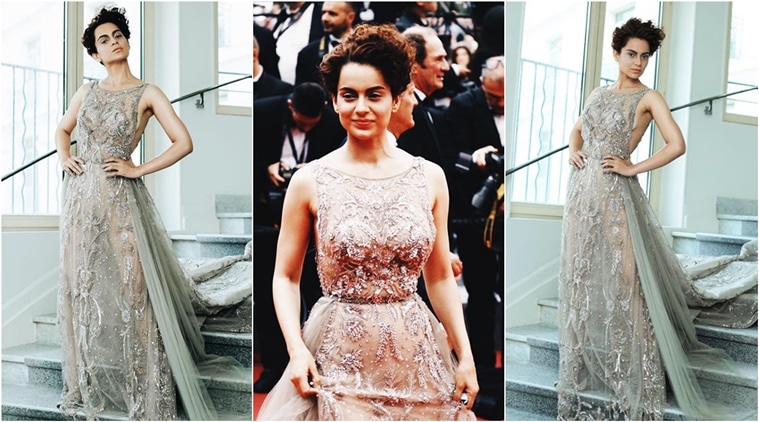 It was a black, shimmery, and Sabyasachi Sari. Well, if someone could pull off a retro look like this, it would be her for sure. She blew everyone's hearts away as she entered the festival, looking like a true diva in the sari that she wore.
We all know how stylish Kangana Ranaut can be. Exhibit A was when she appeared for the wedding of Sonam Kapoor. The golden silk sari off hers made us believe the fact that she is the diva. There is nothing much that she cannot pull off.
Such was the Cannes look of Kangana Ranaut that she gathered everyone's attention. People even compared her beauty and looks to the iconic style of Audrey Hepburn. Now that is surely something right.
We can bet that Hollywood already has eyes on this beautiful Bollywood actress. Her hotness and style cannot be matched. So, all we can do now is hail to The Queen of Bollywood, Kangana Ranaut.