We can only say one thing about Gujarati food, it is heaven. Yes, the number of Gujarati snacks that I love is endless. Well, why not? They pack some great flavors and colors as well. Every woman's dream of cooking is complete with the addition of some recipes from Gujarat.
There is no doubt that the Gujarati snacks have great taste and looks. From Theplas to Khakras, the options are endless. So, how about you try some recipes from Gujarat at home?
Gujarati Snacks: A Vegetarian's Delight
It is true that vegetarians love Gujarati snacks. But that doesn't mean that the non-vegetarians don't. I mean, Gujarati food is so popular that everyone loves it. Also known as 'Farsan', the snacks have some of the best flavors in them.
Is all this talk making you hungry? Wait till you read the rest of it. You will be drooling by then. After all, that's the magic of Gujarati snacks.
Some Gujarati Snacks That You Can Try
Here are some snacks from Gujarat for your munchies. Try them out now.
Khandvi
Tender and soft, Khandvi is a very popular Gujarati snack, people. The rolled-up treat has gram flour as its main ingredient. Filled with some mustard seeds, curry leaves, coconut, this is a must-have. Enjoy it with a warm cup of 'Chai' and you are set.
Dhokla
Whoever says that they don't like Dhokla clearly has no taste buds. O mean, how can someone not like this spongy, fluffy, and soft treat? Served with the tamarind chutney, the Dhokla crumbles in your mouth. Why don't you try it once?
Fafda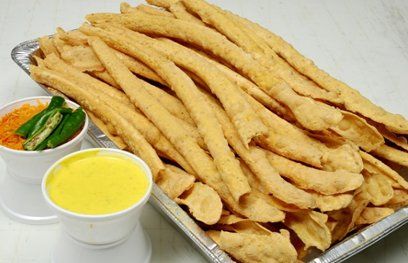 Well, time for some crunch in here. After all these tender and soft recipes, we have some 'Fafda' for you. Made with some gram flour and turmeric, it is the best of the best. All you have to do is make it a bit crisp. It is a perfect snack with your evening tea.
Khakra
Well, say bye-bye to your traditional papad as its tangy, spicy, cousin is here. Well, Khakras are much better than your regular 'Papad', to be honest. Why wouldn't someone want to try this delight, right?
How do you like these Gujarati snacks, guys? Don't they seem like they would be delicious? We bet that you are dying to try the recipes at home next. That would be a great idea, for sure.
So, the next time, instead of making the 'Pakodas', try one of these instead.
Cover Pic Credit- Food N Health